General
Free local business advice for East Midlands SMEs
10/10/2016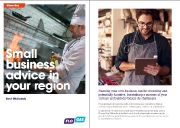 As an East Midlands company, here at Flogas Britain it's important to us to support and encourage local enterprise – which is why we've put together a FREE downloadable eBook for small businesses in Leicestershire, Derbyshire and Nottinghamshire.
Advice you can trust
We know that running a business can be as challenging as it is rewarding. Surviving and thriving in the local market brings its own unique set of demands, so it's vital that small businesses in the East Midlands benefit from tailored advice to help them successfully achieve their goals. With more than 30 years' experience helping businesses in the region cut their energy costs and boost their overheads, we've created a new eBook to provide exclusive tips and guidance for small companies and entrepreneurs locally.
Available to download now, the free business eBook covers a whole host of topics, from using social media to promote and build your brand, to effective people management and reducing your outgoings. It's been developed specifically for businesses in Leicestershire, Derbyshire and Nottinghamshire, and includes success stories from some of the other leading companies proudly flying the flag for the East Midlands.
Free download
If you're looking for small business advice in the Leicestershire, Derbyshire or Nottinghamshire areas, download our FREE Flogas East Midlands eBook now. Comments or questions? Give our experts in energy a call on 0800 022 3232 – or join the conversation on Twitter.