LPG Industry NewsSustainability
New Project to Bring Low Cost, Environmentally Friendly Energy to Scotland
09/11/2016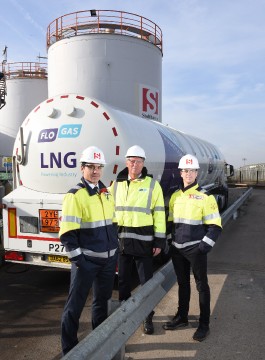 – Innovative Project to Deliver Liquefied Natural Gas (LNG) Directly to Scottish Port
– Project Aims to Reduce LNG Prices and Help Lower Carbon Emissions
– Over 150 Jobs Created if Plans Get the Green Light
Flogas Britain, the UK's leading liquefied natural gas (LNG) provider, and Stolt-Nielsen LNG Holdings Limited, a subsidiary of Stolt-Nielsen Limited (Oslo Børs: SNI), a leading global provider of bulk liquid transportation and storage solutions, today announced a joint project to explore bringing LNG to areas of Scotland not served by the existing natural-gas grid.
The initiative is a step towards reducing the cost of energy for homes and businesses located off the national gas network. LNG will be shipped by Stolt-Nielsen LNG via small-scale LNG carriers and stored in bulk at the Port of Rosyth, before being distributed by Flogas across Scotland by road tanker, mainly to industrial customers.
At present, Scotland's off-grid natural gas is delivered by road tanker from Kent, South East England. The costs associated with the long distances are high, forcing many off-grid businesses to use oil to power their industrial processes, or pay a premium for gas.
With a target completion date set for 2019, the bulk LNG solution will deliver LNG more cost effectively, thus enabling users to switch to the more environmentally friendly fuel, which will help reduce carbon emissions in line with the Scottish Government's Low Carbon Economic Strategy (LCES).
For the next phase of the project, a leading engineering firm has been engaged to support the preliminary engineering and permitting of the small-scale LNG terminal at the Port of Rosyth. Once permits are obtained, construction of the facility can begin on the site, which will generate over 100 local jobs during the 18-month construction phase, and 50 more following completion.
Commenting on the agreement, Flogas' Head of Sales Rob McCord said: "This unique project is the beginning of Scotland's LNG future and a chance to establish Scotland as an even greener nation.
"It will encourage the development of a natural gas infrastructure in Scotland's remote regions and will attract future investments from leading industrial groups.
"Flogas already supplies gas to many businesses and housing estates in Scotland, and the interest we have from potential new customers is huge. The demand is certainly there. We now need to work with the Scottish Government and our other stakeholders to bring the project to life."
Stolt-Nielsen has already completed the permitting for a similar project with the Italian Government in Sardinia.