General
Driving Down Carbon Emissions with Bio-LNG Trucks
13/08/2019
Driving Down Carbon Emissions with Bio-LNG Trucks

Here at Flogas, driving down carbon emissions is at the forefront of consideration during everything we do.  Recently, we have introduced two, new, innovative Bio-LNG powered trucks as part of this vision. These trucks provide an 80 per cent reduction in carbon emissions compared to the conventional diesel engine alternative*. These two vehicles are part of our 2040 ambition of providing our customers with 100 per cent renewable energy solutions.
Our extensive fleet of vehicles already includes a range of dual fuel and electric hybrid alternatives. However, the all-new Volvo FM tractor units, which will be used to transport bulk LPG and LNG, will be a first of their kind. Coming in to operation as of August 2019, the Volvos will contribute to our aim of growing our alternatively fueled fleet of vehicles.
James Goodson, our recently-appointed National Account Manager for Alternative Transport Fuels at Flogas, said, "These trucks are just the first of many, as we look to make our 200-strong fleet cleaner, greener and increasingly futureproof.
"They will each be powered by renewable Bio-LNG – a highly sustainable biofuel that's produced during the anaerobic digestion process. This means they'll be 50% quieter, they'll release significantly fewer pollutants, and fuel costs will be far lower.
"As a leading LNG supplier in the UK, at Flogas we understand the critical role this fuel will play as we face stringent government targets to tackle carbon emissions and improve air quality. Whilst it's still in its infancy in the transport industry, the strong environmental and cost-saving benefits compared to conventional fuels, means LNG is set to become the fuel of choice for heavy goods vehicles.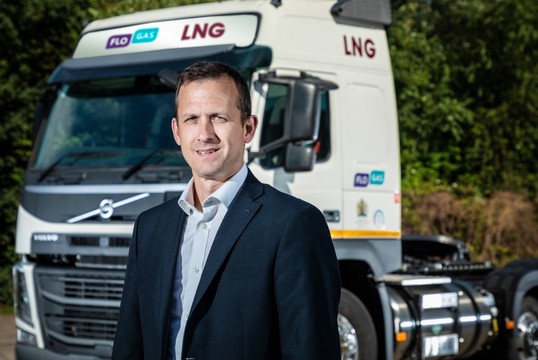 "Hauliers have long faced the challenge of how to reduce their carbon footprint efficiently and cost-effectively. LNG is not just an immediate fix – it's a long term, reliable solution that makes business sense, and that's exactly why we're championing it with our own fleet."
Following strenuous testing of a variety of vehicles from a host of manufacturers, here at Flogas, we finally decided upon the Bio-LNG truck from Volvo, thanks to its impressive capabilities in regard to bulk and cylinder operations.
Head of Logistics, Tim Eaton, noted, "When it came to delivering the cleanest emissions, the lowest noise and most efficient running costs, Volvo trucks came out on top.
"This is the first time we've worked with Volvo, but they have strong experience in LNG-powered vehicles, and the results of the trials simply spoke for themselves. We're excited to get these trucks on the road, and growing our Bio-LNG-powered fleet further."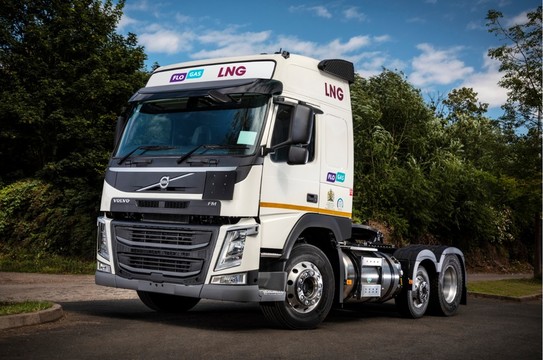 Powered by Volvo's G13C460 LNG engine, the 6×2 Artic truck outputs up 460hp and delivers 2,300Nm of torque — undistinguishable from the diesel-powered alternative. Asides having a range of 400-450 miles, the Bio-LNG Volvo is capable of pulling up to 44 tonnes.
To discover more in regard to renewable energy alternatives and what we are doing at Flogas to help reduce carbon emissions, contact us today.