General
Flogas celebrates Exeter opening with local volunteering day
11/04/2017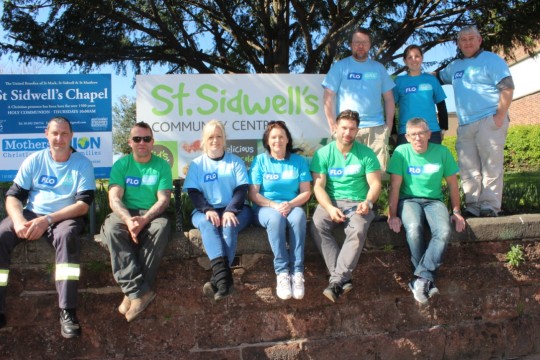 Flogas Britain has opened a brand new depot in Exeter – providing reliable, affordable off-grid gas to homes and businesses throughout the South West. To mark the opening, Flogas chose Exeter Community Centre St. Sidwell's as the site for its first national volunteering day on 06 April.
Based in Woodbury Salterton, the new depot is located in a prime area to service Flogas' growing LPG (liquefied petroleum gas) customer base across Exeter and the wider Devon, Dorset and Somerset areas. With enough capacity to hold 25 tonnes of gas, it will offer free local LPG delivery, so off-grid residents can easily meet their home heating and cooking needs. It will also provide a consistent, cost-effective and efficient energy supply to power business operations and vehicles, from building and roofing firms to fork lift trucks and catering companies.
Doug Turnbull, site manager at the new Flogas Exeter depot, says: "We know how important dependable energy is to Exeter residents – especially with so many people living and working in rural towns and villages locally – so we're very pleased to be opening the doors to our brand new facility. We were previously based at the Dart Business Park, but moving to a new, purpose-built site in Woodbury Salterton means we're much better placed to serve customers in Exeter and the surrounding areas.
"Speaking to our off-grid customers, we've learned that it's our reliable delivery service that really sets us apart from other suppliers. Flogas is known for having more depots than any other UK LPG supplier, and here in Exeter we pride ourselves on working with other depots throughout the South West to make sure all our customers are covered – no matter how remote they are. We're also planning to enhance our stock offering in the summer, with the addition of bottled medical gas supplies to complement our existing LPG cylinders range. As a result, we'll be looking to expand our local delivery team for this additional product by recruiting three new Exeter drivers before the end of this month."
To mark the opening, and officially launch the company's new Employee Volunteering Scheme, staff from across the Flogas business donated their time to St. Sidwell's Community Centre on Sidwell Street, Exeter on Thursday 06 April. Spanning customer services, marketing, sales and logistics, the national team lent a hand with building maintenance, gardening and preparations for the Centre's Heritage Day on 06 May.
Sharon Platts, HR director at Flogas, says: "As a leading on- and off-mains energy supplier, giving back to the communities where we work is important to all of us here at Flogas, and that's why we've developed the new Employee Volunteering Scheme. It gives staff from all areas of the business an opportunity to take time out of their busy work schedules to help local causes – and where better to start than Exeter, the home of our newest depot? Everyone who went along to St. Sidwell's on 6th April was glad to lend their support to such a well-loved community building, and we all wish the Centre's Heritage Day team the very best of luck for their celebrations in May."
The new Flogas Exeter depot is now open at Greendale Business Park, Woodbury Salterton, Exeter, EX5 1EW. It will stock a full range of LPG cylinders to meet all requirements – including bottled propane and butane, as well as portable heaters, regulators, fixtures and fittings. Customers can use their online account to place orders, make payments and monitor usage and deliveries. The depot is open between 8.30am and 4.30pm every weekday, and a team of local experts is on hand to assist with any customer enquiries.
For more information on Flogas' local LPG delivery service please visit www.flogas.co.uk/devon or call 0808 278 6602.