Sustainability
Flogas invests in a greener fleet with first hybrid delivery truck
08/11/2017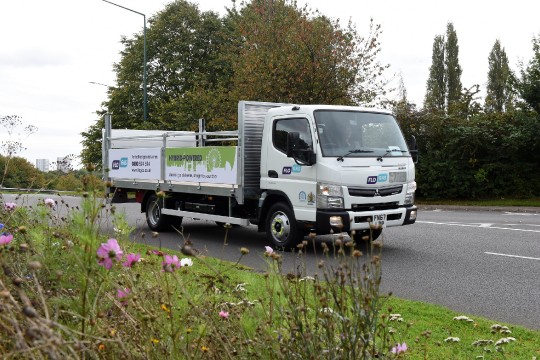 Flogas Britain has introduced a brand new hybrid vehicle to its London delivery fleet – marking its ongoing commitment to championing environmental excellence across the business.
The new diesel-electric Mitsubishi Fuso Canter Eco Hybrid truck is the first of its kind to join Flogas' 170-strong national cylinder delivery fleet, and will be delivering products from Flogas' extensive gas cylinder range to homes and businesses within the M25. Its launch signals the first step in a long-term, companywide carbon reduction initiative, which includes plans to eventually phase out traditional diesel-fuelled trucks altogether.  
Stephen Moir, Fleet Manager at Flogas, explains: "The introduction of our first hybrid diesel-electric delivery truck to the Flogas fleet is a really exciting step forward for us. As all businesses should be, we're conscious of managing our environmental impact as effectively as possible, while remaining focused on our number one priority: fulfilling our duty to our customers.
"Carbon emissions are a growing concern across the UK and further afield, and as a result more and more areas – especially big cities – are introducing combative measures such as clean-air zones. Development of carbon-cutting technologies is accelerating too, and as a forward-thinking organisation we're keen to stay ahead of the curve – using these advancements to improve our processes for the benefit of ourselves, our customers and the wider public. Adopting hybrid vehicles into our fleet is a prime example of this commitment. Swapping a conventional delivery vehicle for a hybrid can reduce fuel consumption by more than 20 per cent – and if you imagine what this would look like on a fleet-wide scale, we're talking about enormous potential carbon savings."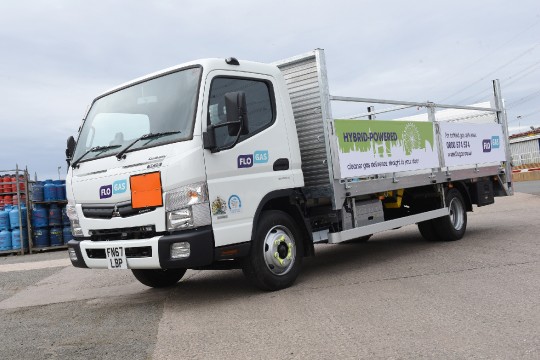 The new truck is set to deliver to both domestic and commercial customers in the London area. These include caravan and boat owners, restaurants and cafés, mobile catering units and logistics firms, which use Flogas cylinders for everything from heating and cooking to powering forklift trucks.
Stacey Morgan, Sales and Marketing Director at Flogas, concludes: "At Flogas, it's really important for us to be constantly innovating and improving as a business. Embracing more environmentally astute ways of working is a crucial part of this, and that's why we're so proud to introduce this new hybrid vehicle to our fleet. We plan for it to be the first of many as we continue to expand our fleet."
For more information, please call 0800 574 574 or email [email protected].