Industry News
Flogas joins forces with ABP to bunker ships with LNG in UK first
30/08/2017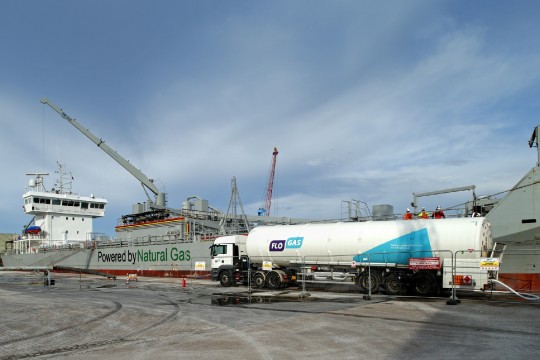 Flogas has partnered with Associated British Ports (ABP) to bunker a ship with liquefied natural gas (LNG) for the first time ever in the UK.
The pioneering project, which mirrors similar successful schemes in other European countries, saw a 110-metre carrier named Ireland – operated by Norwegian shipping firm KGJ Cement AS – refuelled with LNG at the Port of Immingham on Wednesday 16th August.
A step forward for UK maritime refuelling
The joint venture between Flogas (the UK's leading LNG provider) and ABP (the UK's leading port group) marks a significant and unprecedented step forward for maritime bunkering in the UK. It means ships from across the globe will now have direct access to LNG –  a fuel that is becoming increasingly popular in shipping, due to its ability to help vessels comply with current and future climate legislation.
Lee Gannon, managing director at Flogas, explains: "At Flogas, we pride ourselves on leading the way when it comes to developing the LNG industry in the UK, and exploring new opportunities for end users to benefit from this highly versatile fuel. There is great potential for LNG in the maritime industry as a more environmentally-friendly alternative to traditional oil-based bunker fuels, but until now this potential has remained untapped here in the UK."
Growing demand for cleaner ship fuel
Although only a limited number of ships currently bunker with LNG, demand is expected to grow rapidly as environmental regulations increasingly prohibit the use of polluting heavy fuel oils. Both Flogas and ABP see potential to replace thousands of tonnes of heavy fuel oil each year with cleaner, cost-effective LNG.
Lee Gannon continues: "We're very pleased to have partnered with the country's leading port operator, ABP, to turn vision into reality; our specialist expertise and theirs have come together perfectly to make this the success we knew it could be. We're looking forward to working with ABP and other prospective partners on future projects – especially as the popularity of LNG continues to gather pace in the maritime industry, in line with an increasing focus on reducing environmental impact."
Natural gas: the marine fuel of the future
Mark Frith, port manager for ABP Immingham and Grimsby, adds: "We are proud to be a key part of this flagship operation, which has really put the UK on the map as the latest European hub for more climate-friendly bunkering. Demand is already beginning to shift away from oil across the international fleet, and we very much see natural gas taking its place as the marine fuel of choice. We look forward to welcoming increasing numbers of ships to Immingham as a result of our new and unique offering in partnership with Flogas."
The new tanker-to-ship service provides the flexibility needed to service current demand, but as the LNG marine market grows, Flogas will invest in storage and bunkering facilities at ABP ports when required.
For more information on Flogas' LNG offering, please click here or call 0800 028 3802.