Awards
Flogas scoops coveted Logistics Champion Award from FTA
05/01/2018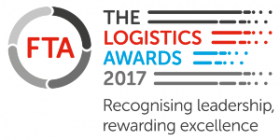 Leading liquefied petroleum gas (LPG) supplier Flogas Britain has been crowned Logistics Champion of the Year for Essential Services at the Freight Transport Association (FTA) Logistics Awards 2017.
The industry-renowned awards are run annually by the FTA, the UK's leading logistics membership association, and serve to reward supply chain leadership and excellence. Flogas took the top spot in the Essential Services category in recognition of its outstanding contribution to logistics – an achievement that reflects the hard work of the teams operating its robust nationwide network of depots, as well as its 500-strong vehicle fleet.
Lee Gannon, Managing Director at Flogas Britain, comments: "Receiving this award is a true accolade, and speaks volumes for the passion and dedication of our staff across the business. As a leading LPG supplier with more than 30 years' experience in the industry, Flogas aims to provide both domestic and commercial customers with affordability, reliability, unrivalled expertise and a friendly, personal service. Being named Logistics Champion for Essential Services is testament to our ongoing commitment to upholding excellence in these areas – especially when it comes to ensuring reliable, prompt deliveries – so we couldn't be happier."
Flogas prides itself on making continual improvements to its supply chain. Earlier this year, the company introduced its first diesel-electric hybrid truck to its London cylinder delivery truck fleet. The move signalled the first step in a long-term, companywide carbon reduction initiative, which includes plans to eventually phase out traditional diesel-fuelled trucks altogether.  
For more information, please visit www.flogas.co.uk, call 0800 574 574 or email [email protected].