LPG Industry News
Life's a gas for Flogas with its new Isuzu trucks
09/02/2017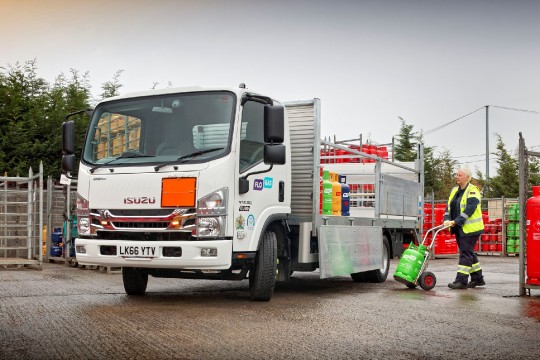 Flogas Britain Ltd, one of the UK's largest LPG distributors, has recently taken delivery of a further six 7.5tonne Isuzu N75.190 trucks, increasing its fleet of Isuzu vehicles to over 50 in total. The Isuzus are all being used to deliver bottled propane and butane gas to domestic and business customers from Flogas's network of 52 depots across the UK.
"At Flogas, we pride ourselves on providing service that's second to none and, as part of this, our domestic and commercial customers depend on us to make reliable, prompt fuel deliveries, no matter where they are in the UK," said Flogas fleet manager Stephen Moir. "Ensuring our fleet is capable of meeting this demand, both in terms of quality and quantity, is crucial. That's exactly why we opted to work with Isuzu on our most recent expansion. The payload benefits  make the 7.5tonne Isuzu an attractive purchase for us. If you add in the excellent manufacturer support and ever-increasing nationwide dealer network, I can see the Isuzu product having a presence in our fleet for many years to come."
Flogas Britain Ltd currently operates over 500 delivery vehicles and trailers and Isuzu now represents 10% of its overall fleet provision. This relationship between the two companies goes back over 10 years, with one of the first 57-plate Isuzu NPR 7.5tonne trucks operating in the Flogas fleet still operational on a daily basis.
The six new Isuzu Forward 7.5tonne rigids each went into service at the start of January 2017 and have all been specified with the popular Easyshift transmission and a specially designed lightweight body for gas bottle distribution. Flogas estimates that each Isuzu will cover up to 40,000 km per annum and operate in its fleet for at least six years, possibly longer.
"With such a huge and diverse geographical area to cover, reliability is always a major concern for us when adding new trucks to the fleet," Stephen Moir explains, "so to help us achieve excellent uptime we have agreed a comprehensive six year repair and maintenance package with Isuzu Truck UK, which will help protect us even as the trucks get older."
"Overall the Isuzus are a perfect fit for our bottled gas distribution service. Apart from the proven benefits of excellent  payload and reliability, the vehicles are also extremely user-friendly and make the working day for our drivers as easy as possible," added Stephen.
As part of FTSE100-listed company DCC Energy, Flogas is one of the UK's leading LPG, LNG and mains gas suppliers, operating more UK depots than any other LPG supplier.
"Over the past 10 years, Isuzu Truck UK and Flogas Britain Ltd have built up a very effective long-term working relationship, which has seen the numbers of Isuzus in their fleet consistently increase during that time. By working closely with Flogas, we have been able to ensure that they have received the optimum level of support throughout the working life of their vehicles and, like so many of our customers, Flogas benefits from the unique CARE programme offered through our UK dealer network," said Pete Murphy, managing director, Isuzu Truck UK.