LPG Industry News
FLOGAS BRITAIN LAUNCHES INNOVATIVE 'GASLIGHT' LPG CYLINDER
14/09/2016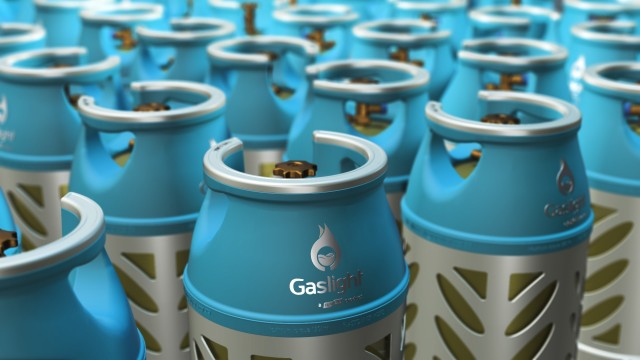 Flogas Britain, one of the UK's leading LPG, LNG and mains gas providers, has today announced the launch of 'Gaslight', a unique and innovative composite LPG cylinder.
Developed initially for use in Fork Lift Trucks (FLTs), and made from toughened plastic and fibre-glass, the Gaslight cylinders are almost half the weight of traditional LPG cylinders, yet are more robust and can sustain far greater pressures. In addition, their translucent appearance allows far superior fuel visibility, so operators know exactly when to refill them.
Ergonomically designed, and with a combined gas and cylinder weight of just 20kg, the Hexagon Ragasco manufactured cylinders fall well within the European Manual Handling Operations Regulations, which prohibit operators lifting anything over 25kg above elbow height.
The cylinder's design also offers unrivalled ease of transportation and storage, and unlike conventional steel cylinders, they don't rust or deteriorate.
Commenting on the launch, Head of Cylinder Sales at Flogas, Mark Whittaker said: "This is the first time in decades the commercial cylinder market has seen innovation and new technology, so we're very proud to be at the heart of it.
"We have already seen huge successes with the Gaslight cylinders in the domestic market, and so it was a natural step to roll the cylinders out to the commercial market – particularly within the logistics industry, where manual handling is such a hot topic.
"The expansion of our range to include the commercial Gaslight cylinders fits our strategy of being an innovative energy provider at the forefront of new technology, and cements our position as LPG market leaders.
He concluded: "As experts in energy, we're committed to providing our customers with bespoke, turnkey fuel solutions that really make sense for their businesses, and we're looking forward to seeing how these cylinders revolutionise the FLT sector."
Flogas is officially unveiling the Gaslight cylinders today on its stand at the IMHX logistics show, being held at the NEC. This will be the first time these cylinders have been available throughout the UK.
They will be available to order exclusively from Flogas from Autumn 2016.
Businesses interested in finding out more about the new range of Gaslight cylinders from Flogas can visit: www.flogas.co.uk/gaslight or call 0800 023 4312.