Awards
Flogas scoops FLTA innovation award for Gaslight range
07/03/2017
Flogas Britain's unique Gaslight range of composite LPG cylinders has won the Innovation category in the Fork Lift Truck Association (FLTA) Awards for Excellence 2017.
The association's annual awards aim to encourage and reward examples of excellence across the Fork Lift Truck (FLT) industry in five categories: Environment, Ergonomics, Safety, Innovation and Safe Site. The Gaslight FLT range(launched by Flogas last year) was named a finalist in both the Safety ad Innovation categories – and went on to win the Innovation award for its role in pushing the boundaries of fork lift technology.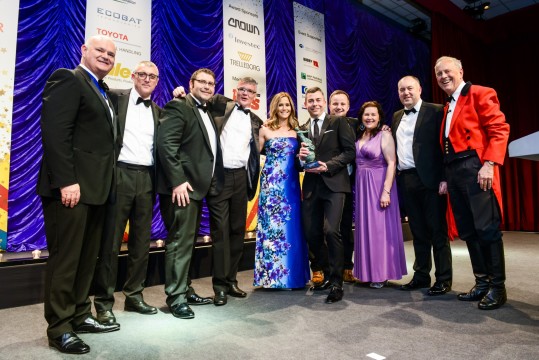 Made from toughened plastic and fibreglass, and developed specifically for use in FLTs, Flogas's Gaslight cylinders are not only almost half the weight of traditional LPG cylinders, but are more robust and capable of sustaining far greater pressures. The cylinders' translucent design also optimises fuel visibility, allowing operators to see exactly when they need exchanging.  
Mark Whittaker, Head of Cylinder Sales at Flogas, says: "We are very proud to have won the FLTA's prestigious Innovation award with our Gaslight range. The accolade is testament to our efforts as a business to continually improve and innovate within the commercial cylinder market and beyond.
"At Flogas, we place great emphasis on really getting to know the sectors we operate in and finding out what their challenges are. By doing this, we're able to continue to provide new, bespoke solutions that respond to the varying needs of our customers in both new and existing markets – and the launch of our FLT Gaslight cylinder last year was a prime example of this. It's great to see that in the space of just a few months, the cylinders have really made their mark in the FLT industry and are helping make logistics professionals' day-to-day jobs easier and enhancing safety in the process."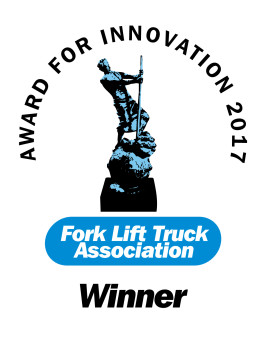 Manufactured by Hexagon Ragasco, Flogas's Gaslight cylinders are ergonomically designed, with a combined gas and cylinder weight of just 20kg. This means they comfortably fulfil European Manual Handling Operations Regulations (which prohibit operators lifting anything heavier than 25kg higher than elbow height), as well as being easily transportable. Their composite makeup can also withstand a burst pressure higher than their steel counterparts, reducing eliminating the risk of explosion from fire.
Stacey Morgan, Sales & Marketing Director at Flogas, concludes: "On behalf of the whole business, I'd like to thank the FLTA for this coveted recognition – as well as extending well-deserved congratulations to everyone at Flogas who worked so hard to bring the Gaslight FLT Cylinder to market.
"With more than three decades as an LPG market leader under our belts, it makes perfect sense for us to draw on our longstanding expertise and use it to develop new and revolutionary products that meet evolving customer demand. That was precisely our aim with Gaslight, and the results speak for themselves. An ongoing focus on product development is central to Flogas's long-term growth strategy, and we look forward to continuing to strengthen our presence in the FLT industry."
For more information on the Gaslight cylinder range from Flogas, please visit www.flogas.co.uk/gaslight or call 0800 023 4312.